New Project in 2021 - Art for the New Start Community Garden Fence
Funding for this project is proved by the Port of Seattle's South King County Fund for Environmental Grants (SKCF.)
The goal of this project is to make the community garden an inviting, interesting community space by providing art that will be displayed on the garden fence. We will encourage the local schools and community to participate in this project that connects art with nature and gardening. This garden provides for food security in a community that has many apartment buildings. The project will engage participants that reflect the diverse culture diversity of the area.
This project demonstrates through the artwork that the community garden is a welcoming place for all ethnic groups, by providing art that represents all cultures of the surrounding area. This project demonstrates a commitment to environmental and social justice initiatives by incorporating inclusive and culturally sensitive activities and engagement.  Sign-up Here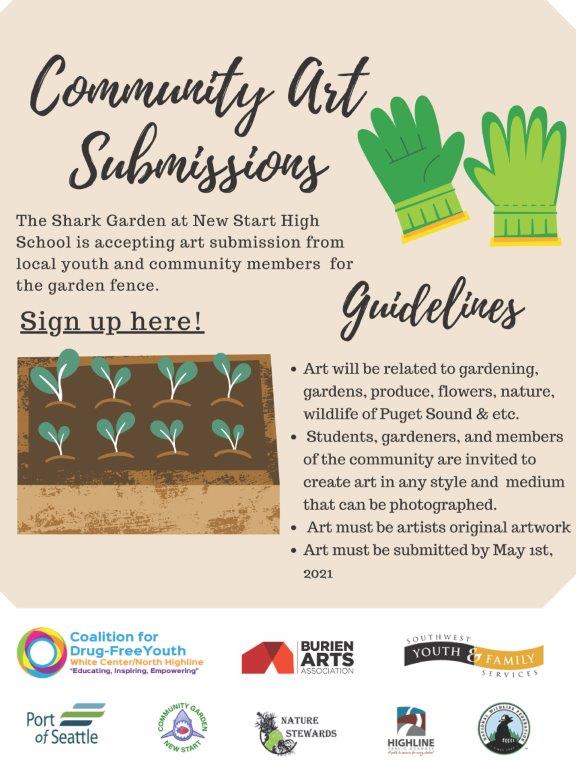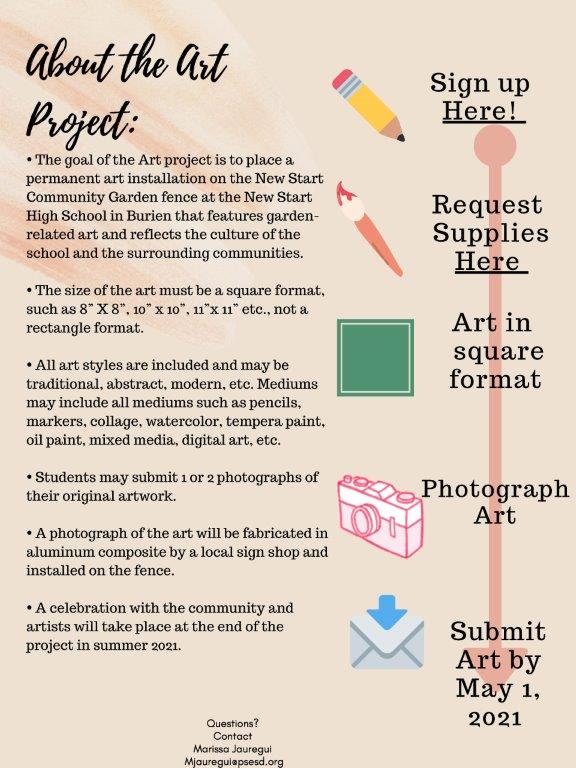 Arte para la nueva valla de jardín comunitario
La financiación de este proyecto es probada por el Fondo para Subvenciones Ambientales del Condado de South King del Puerto de Seattle (SKCF)
El objetivo de este proyecto es hacer del jardín comunitario un espacio comunitario acogedor e interesante proporcionando arte que se mostrará en la cerca del jardín. Alentaremos a las escuelas y comunidades locales a participar en este proyecto que conecta el arte con la naturaleza y la jardinería. Este jardín proporciona seguridad alimentaria en una comunidad que tiene muchos edificios de apartamentos.  El proyecto involucrará a participantes que reflejan la diversidad cultural diversa de la zona.
Este proyecto demuestra a través de la obra de arte que el jardín comunitario es un lugar acogedor para todos los grupos étnicos, proporcionando arte que representa todas las culturas de los alrededores. Este proyecto demuestra un compromiso con las iniciativas de justicia ambiental y social mediante la incorporación de actividades y participación inclusivas y culturalmente sensibles.  Sign-Up Here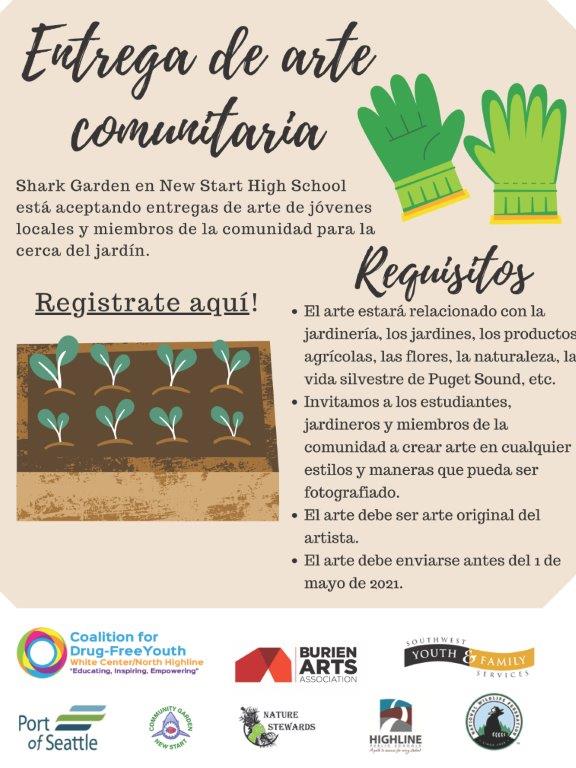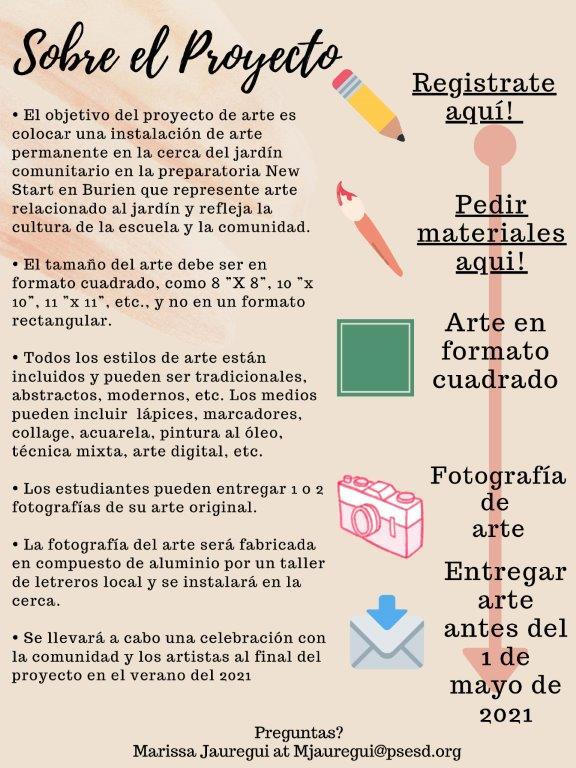 Discover the 4 Components of a Wildlife Habitat in the "Garden for Wildlife" Series in 2020-2021
Food, water, shelter and places to raise young are necessary components to attract wildlife to your yard or apartment balcony. Incorporating native plants in the garden and using sustainable gardening practices, like not using pesticides and chemicals, are also important when establishing a haven for birds, butterflies and bees. Our native plant of the year in 2020 was the Vine Maple, acer cirncinatum, a versatile small tree known for its beautiful fall color that provides flowers and seeds for birds and other wildlife.
The Serviceberry, Amelanchier alnifolia, also known as Saskatoon, is our native plant of the year for 2021.  We've chosen this plant for its benefit to both humans and wildlife. It is is native in all Washington counties, all Oregon counties, northern California, and southern British Columbia. It's one of our most widespread native shrubs. It usually grows as a shrub, but can be a small single-stemmed tree.  It's perfect for in many landscape settings. including small yards. It likes sunny locations, but will do fine in partial shade. it prefers a moist, well-drained soil but tolerates a wide range of conditions.  The spring bloom is welcome addition when there are few other flowering trees. In 2020, our featured Plant of the Year was the Vine Maple, Acer circinatum.

This is a woody shrub with an erect to spreading form. It often grows to height of 12' with an equal width. Leaves are arranged in an alternate fashion. They are simple, 1"-3" in length and have an oval to oblong shape. During the summer the leaves are green while in the fall they can turn a very pleasing red to yellow color. The flowers, which grow in clusters, are star-shaped with five petals.  These white fragrant flowers, arranged in racemes (3-20 per cluster), appear from April through July. Flowers morph to ½" bluish-purple, juicy edible berries which ripen in early summer. The berries taste similar to blueberries and can be eaten fresh or dried, and can be used to make jelly or wine.  It was a common food source among Native Americans, who used the berries as a component of mincemeat. The berries are popular with wildlife.  Serviceberry blossoms are attractive to bees and butterflies.  Because birds are attracted to the berries, these shrubs are a natural choice when trying to establish a backyard wildlife habitat.

Here's an excellent essay The Serviceberry: An Economy of Abundance describing how plants and birds reciprocate in their offerings to each other, and how humans can learn from the reciprocity. It's by indigenous botanist, author, and professor Robin Wall Kimmerer: https://emergencemagazine.org/story/the-serviceberry/.
She says: "I want to live in a society where the currency of exchange is gratitude and the infinitely renewable resource of kindness, which multiplies every time it is shared, rather than depreciating with use." And "Thriving is possible...only if you have nurtured strong relations with your community."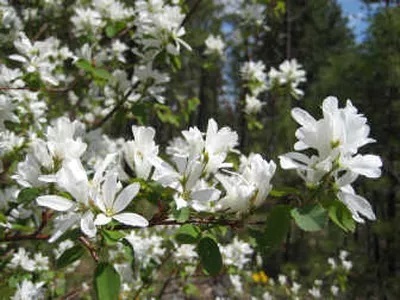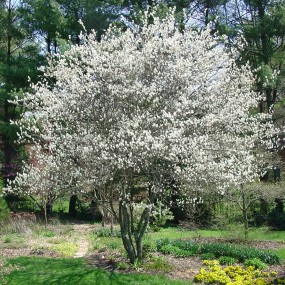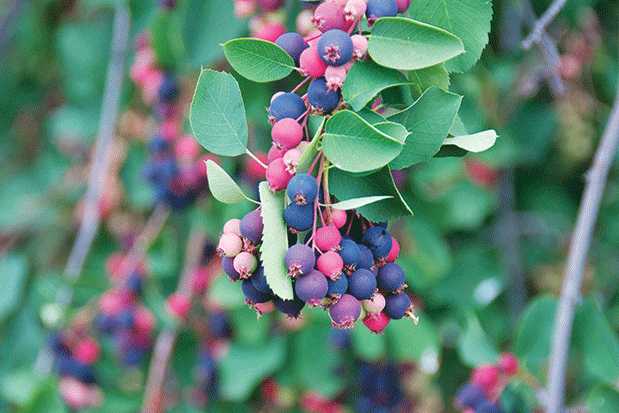 Composting Workshop - January of 2021
Learn how sustainable gardening techniques benefit both people and wildlife.
Adding native plants and perennial flowering plants to a community garden, a public park, or your home garden contributes a greater impact to the overall health of wildlife around Puget Sound. Gardens for Wildlife program addresses the need for wildlife habitat through a combination of education and stewardship activities.  The knowledge gained trough the Zoom workshops and a restoration event in a community park or community garden enables participants to successfully garden for wildlife in their own yard, garden, or apartment balcony.
"Garden for Wildlife" Zoom workshops topics include:
1.  Identify and control invasive non-native weeds.  We hosted 10 events, including three Zoom workshops and a Graduation Ceremony in the summer of 2020 for the members of the class.
2.  Composting, mulching  delivered in January of 2021.  This program was currently running with a Zoom instructional workshop and hands-on practice in composting techniques at the New Start Community Garden in Burien, WA.
3. Wetlands - various types, importance, habitat for wildlife In February of 2021. This class was delivered via Zoom with Instructor Lauryn Duoto, WHIT Wetland Certification. Attendees were invited to participate in a wetland restoration project the same week.
4.  Sustainable gardening practices (March of 2021)
5.  Edible native plants that provide food for people and wildlife (March of 2021)
Components of this program is funded by a grant from the Port of Seattle Airport Community Ecology (ACE) fund, and produced in partnership with National Wildlife Federation, New Start Community Garden in the Highline School District, also called the "Shark Garden" after the school mascot,  City of Burien, students from all around Puget Sound and volunteers like you.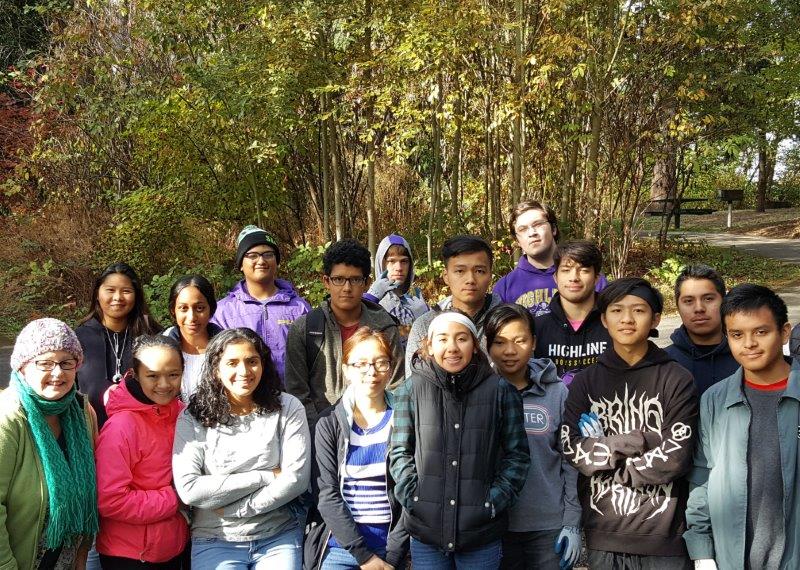 Of course, during COVID-19 social distancing restrictions, our project's social dynamic in restoration events with students and community members will be different from past events with no large group interactions.  Social distancing protocols and face coverings are followed to ensure the safety of all involved.
Check out the National Wildlife Federation's Garden for Wildlife program for attracting Birds, Butterflies and Other a Backyard Wildlife to your yard or apartment balcony.   Many communities around Puget Sound are a registered Community Wildlife Habitat communities that have schoolyard wildlife habitats, native plants gardens, and other features that count toward city certification as a Wildlife Habitat Community. The New Start Community Garden at the New Start High School in Burien, is a certified Schoolyard Wildlife Habitat.  Burien, among other cities, are working toward full certification with the National Wildlife Federation. Please consider registering your yard or balcony, as this helps your city become a Wildlife Habitat Community.

Myers Way Wetland Restoration Project, 2020 - 2021

In Phase 1, in 2020, Weed Warriors removed invasive blackberries from 33,000 square feet wetland.  The pile of blackberry canes and root balls was approximately 5,000 cubic feet.
Phase 2, in 2021, consists of more root removal, followed by a planting of native wetland appropriate trees and shrubs. In February of 2021, we planted over 50 wetland trees.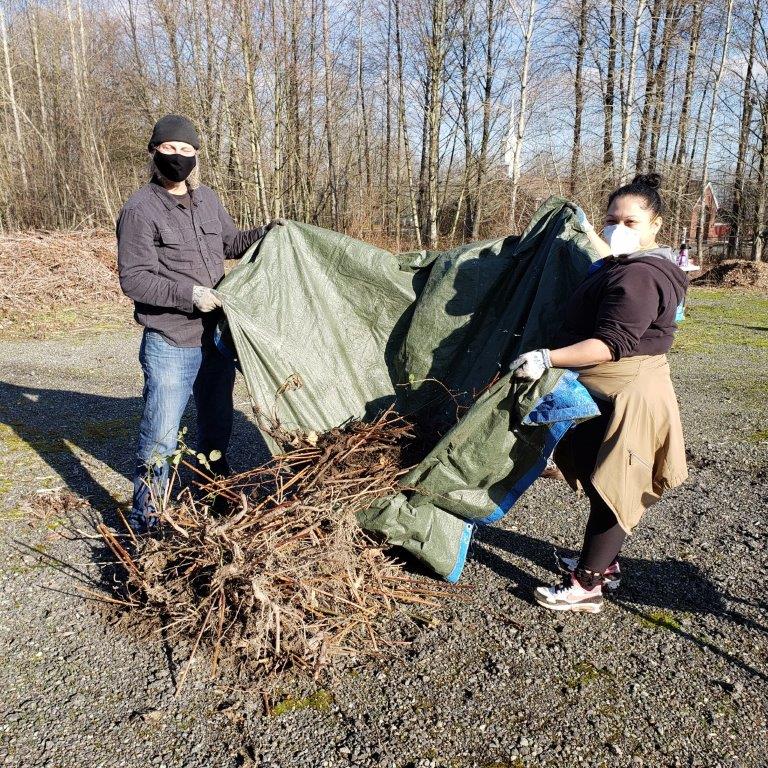 Invasive Himalayan blackberry roots.