Mark your calendars for THREE fundraiser plant sales in 2023!
April 7th, 8th, 9th, 9 AM - 4 PM
Mother's Day Weekend, May 12th, 13th, 14th, 2023, 9 AM - 4 PM
Father's Day Weekend, June 17th, 18th, 10 AM - 4 PM
The Nature Steward's Nursery has a variety of Native Plants and Trees.
The Vine Maple,  considered a small tree, is great for urban landscapes.
It's colorful in the Fall and trimmable, so you can keep it contained.
Another favorite is Serviceberry, a bush that provides berries for both humans and wildlife.
Yes, we have more native Camus, Red Flowering currant, Mock Orange and more!
We have shade plants, sun plants, drought tolerant plants, grounds covers, and ferns.
Contact Grace at 425-228-7927 for information about the fundraiser plant sales.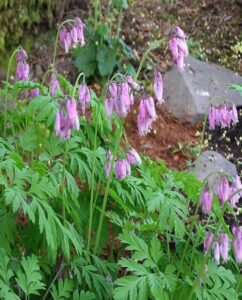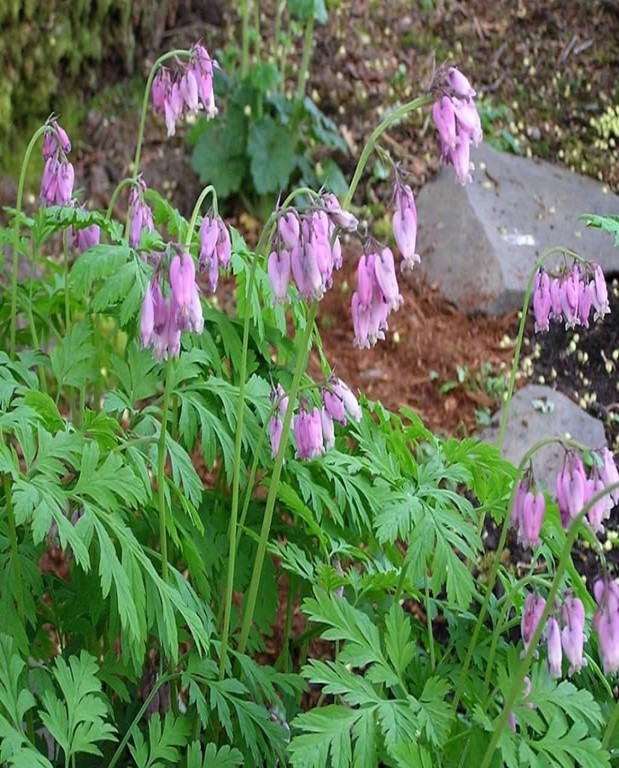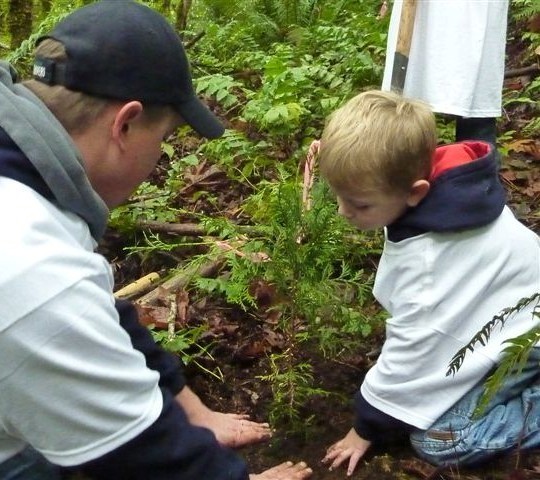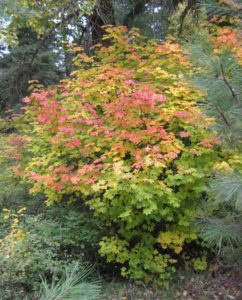 Myers Way Wetland Restoration Project, 2020 - 2023

Phase 1, in 2020, Weed Warriors removed invasive blackberries from 33,000 square feet wetland.  The pile of blackberry canes and roots was approximately 5,000 cubic feet.
Phase 2, in 2021, we removed more blackberry roots, followed by a planting of 350 native wetland trees and shrubs.
Phase 3, in 2022 and 2023, we will continue the restoration effort!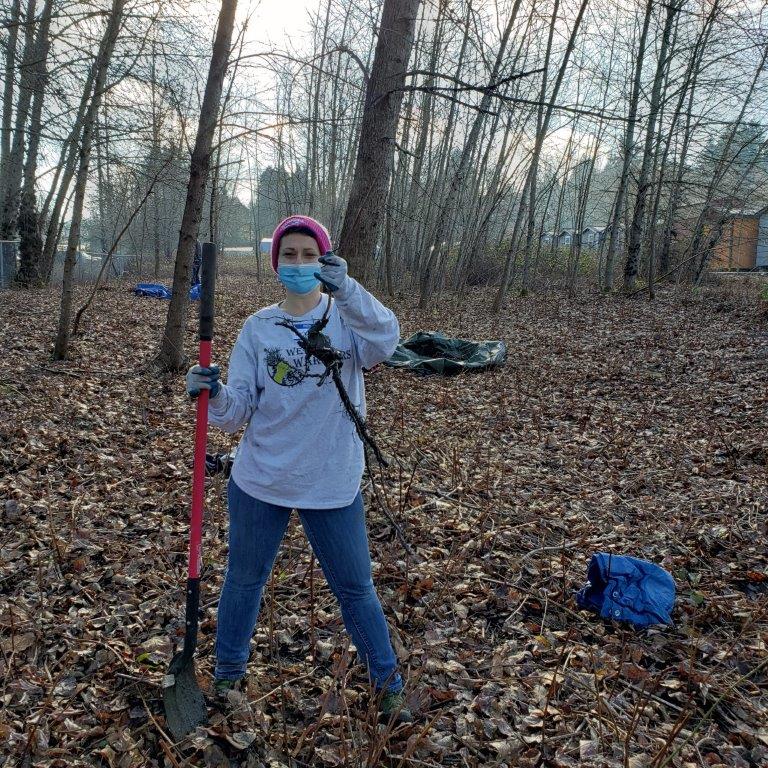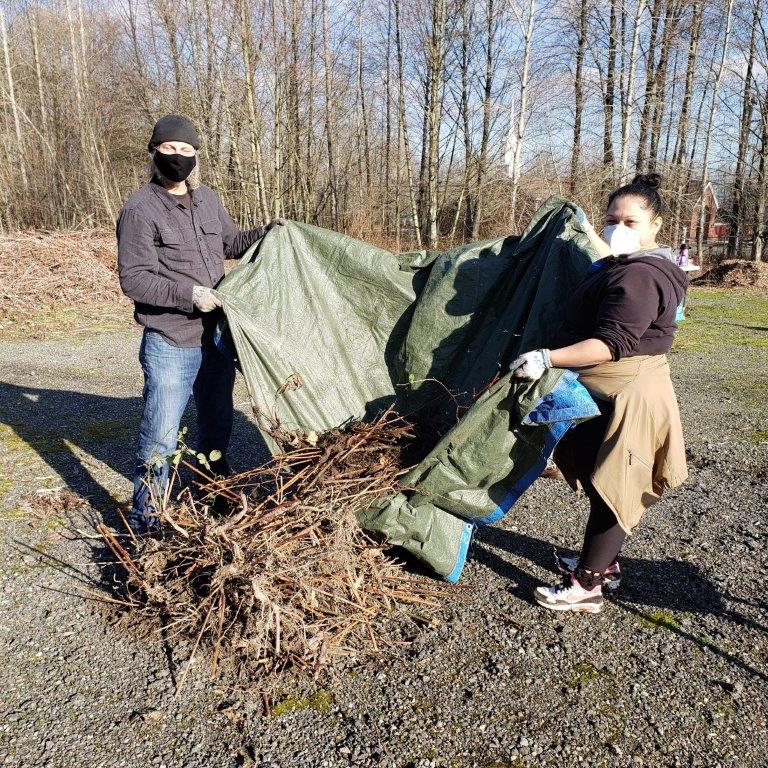 We Solarized the New Start Community Garden Infrastructure in 2022!
The garden stage, irrigation system, and greenhouse has solar power, making the garden an Eco-friendly, off-the-grid garden of the future.
Thanks to our partners and funders for this awesome new project:
Port of Seattle's So King County Environmental Fund
King Conservation District
Key Tech Labs
New Start School and Students
Highline School District CTE Group - Career, Technology Education
Coalition for Drug Free Youth
Members of the Community, Like YOU!
In 2023, We're Bringing Urban Food Gardening Education Classes to the New Start Community Garden
To Sign-Up for Classes, Contact info@SharkGarden.org
| | |
| --- | --- |
| 1/28/2023 | Winter Pruning |
| 2/11/2023 | Intro to Pruning Berries & Vines (+kiwis & grapes) |
| | |
| 3/4/2023 | Grafting 101 |
| 3/25/2023 | P-Patch Orientation |
| | |
| 4/1/2023 | Drip Irrigation 101 |
| 4//22/23 | EARTH DAY WORK PARTY |
| 4/29/23 | SPRING OPEN HOUSE |
| 5/6/23 | Edible Landscaping 101 |
| 5/13/23 | Composting 101 plus Worms! |
| 5/20/23 | Thinning & Netting Fruit Trees 101 |
| 5/20/2023 | Rainwater Harvesting 101 |
| 6/3/2023 | Herb Gardening 101 |
| 6/10/2023 | Summer Fruit Pruning 101 |
| 6/17/2023 | Beneficial Bugs & Pollinator Gardening 101 |
| 6/17/2023 | Organic Weed Control 101 |
| 6/24/23 | Intro to Herbal Medicine |
| 7/1/23 | Burien Art Market |
| 7/2 til 7/8 | SUMMER BREAK |
| 7/22/23 | Intro to African Soul Food |
| 7/22/23 | Intro to Beekeeping |
| 7/29/23 | Intro to Kurdish Cooking |
| 8/12/23 | BURIEN SOLAR PUNK FESTIVAL |
| 9/9/23 | FALL OPEN HOUSE & BAKE SALE |
| 10/7/23 | Winterizing Your Garden |
| | |
| 7/15/2023 | Make Your Own Vietnamese Fresh Rolls (Morning) |
| 7/15/2023 | Intro to Vietnamese Salads |
| August/Sept | Mexican Salsas 101 |
| August/Sept | African Sauces 101 |
| Fall Open House | Ethiopian Coffee or Tea Culture 101 |
| Fall | Intro to Microgreens |
| Fall | Intro to Gluten Free Cooking |
| | Create a Mini Food Forest : Tree Guilds |
| August | Container & Small Space Gardening |
| Spring 2024 | Intro to No Till/Dig Gardening |
| | Soil Web & Health (w/ some mycology) |
| | Eat Your Weeds! |
| | Companion Planting 101 |
| | Garden Tools 101 w/maintenance |
| | Growing Fruit & Berries in Containers |
| March 2024 | Plant Propagation 101 |
| | |
| | |
| April 2024 | Intro to Mushroom Foraging in the PNW |
| | Chicken Keeping 101 |
| | |
---