Founder of the Weed Warriors Nature Stewards program, Grace Stiller, receives a "Citizen of the Year" Award, September 2020.
Grace Stiller Named As Burien "Citizen of the Year"34th District Democrats member Grace Stiller was one of three named as Burien Citizens of the year at the Burien City Council meeting Monday August 3rd along with Pastors Jenny Partch (Highline United Methodist Church), Lina Thompson (Lake Burien Presbyterian church).Grace was nominated by 2015 Citizen of the Year Eric Mathison, and is president of the Burien Arts Association"Grace sits at the community service table at the Community Resource Fair at the community center," said Mathison. "Grace arranges community service work for those who want to work off parking for speeding fines sentenced by the community court. Grace is also on the board for the New Start Community Garden on Highline School District property in north Burien. She has also conducted classes for youth and adults at the Burien Community Center on behalf of Weed Warriors/Nature Stewards Program, the non-profit she personally founded in 2008."Through the National Wildlife Federation, Grace is a Team Leader to certify Burien as a Wildlife Habitat City. She is leading the effort for full certification for Burien."Grace is also the PCO for BUR 34-0824.
_____________________________________
In 2020, the Seattle Society Page Featured our Program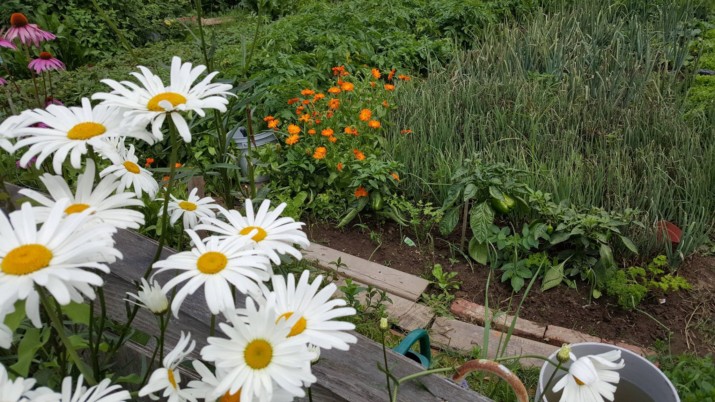 Burien, WA.  The Weed Warriors, Nature Stewards Program has continued to serve the King County community throughout the COVID-19 pandemic.  "Of course, our activities and events have changed," says Grace Stiller, the program's President. Volunteers with the Weed Warriors must maintain social distancing protocols, but according to Stiller, the program is still active and engaged.
While the COVID-19 crisis has forced many organizations to close their doors, the Weed Warriors continue to do essential work in Burien's New Start Community Garden, pictured above. The community garden includes personal patches as well as many feature gardens, and a stage that, before the COVID-19 crisis, was used for community events.  According to Stiller, the Weed Warriors' work in the community garden is "an important part of being able to plant and harvest food for the food bank."  "Volunteers are always needed," says Stiller, "we always need help in the community garden, and at Mathison Park in Burien."
The Weed Warriors program also partners with the National Wildlife Federation to provide the Gardens for Wildlife program.  The program includes Zoom Workshops on topics like sustainable gardening practices and controlling invasive, non-native weeds, as well as a restoration event at a community garden or park. Due to the COVID-19 crisis, this year's restoration events will follow social distancing protocols and forgo large group interactions. According to Stiller, the National Wildlife Federation's goal to protect wildlife complements the Weed Warriors' mission to "protect the habitat that gives the wildlife homes."
Stiller co-founded the Weed Warriors in 2008 to help students meet their community service requirements, and the program has grown since then. The Weed Warriors, Nature Stewards Program provides educational workshops, habitat restoration, and community service opportunities. Stiller explains that "when people understand our relationship to nature they'll respect and advocate for nature and advocate for policies that continue to allow for harmony with nature."
From Weed Warriors, Nature Stewards Program:
We're advocates for healthy habitats for both people and wildlife.  We connect kids to nature through education and the arts, empowering them to steward the earth and change the world.  Our vision is to see the world living in harmony with nature.
_____________________________________________________________
In 2017, The City of Newcastle acknowledged the Weed Warriors Nature Stewards Program for producing the Newcastle Earth Day event for 10 consecutive years.
_____________________________________________________________
In 2016, Grace Stiller received the Conservation Service Award from the National Wildlife Federation, Pacific Region.
Article written by Courtney Sullivan, NWF, Pacific Region Director.
Help us celebrate our 2016 Pacific Region, Conservation Service Award winner, Grace Stiller.  We wanted to share her inspiring story of service about her work as a Community Wildlife Habitat team leader and Habitat Steward with National Wildlife Federation, and how she connects with other local organizations to support wildlife conservation and stewardship in her city of Newcastle, WA who registered as a team with NWF in February 2013 and will soon be celebrating their certification!  Grace has been an inspiration and mentor to the National Wildlife Federation's Garden for Wildlife: Community Wildlife Habitat teams members in the Puget Sound region.
Grace is the founder and board president of Weed Warriors, a local non-profit launched their first project in February of 2008 with the massive ivy removal and habitat restoration of the Newcastle Historical Cemetery. Since 2008, volunteers have removed various species of invasive noxious weeds in many locations, reaching over an impressive amount of volunteer time totaling a 13,985 hours through 2015.  Weed Warriors are stewards of public places – parks, trails, and open spaces. They are passionate about living in harmony with nature. Their Nature Stewards program empowers communities to connect to the natural landscape, fosters an appreciation and stewardship of the environment and advocates for social responsibility of public areas.
Nature Stewards has grown and evolved since our initial "Boots on the Ground" weed removal and restoration projects in 2008. The Nature Stewards program now includes workshops, events, classroom presentations, nature trail walks, rain garden installations, and advocacy for environmental issues – all activities supporting our mission to impart and nurture the responsibility of environmental stewardship.
Volunteers of all ages lea—rn about the environment and help shape the environmental health of their public places by participating in local restoration projects – removing invasive weeds and planting native plants.  Our programs empower youth to find their voices to steward the earth and change the world through education, arts, and creative programming. Nature Stewards advocate for com__–munities to connect with nature and provide habitat for birds, butterflies and pollinators -they encourage everyone to get involved and become an environmental steward.  To learn more:  http://naturestewardswa.org/
______________________________________________________________
In 2009, the Newcastle Chamber of Commerce awarded the Community Service Diamond Award to the Weed Warriors Organization.
"Thank you to all our valuable volunteers, partners, and Board of Directors that made these awards and honors possible!"  Grace Stiller, President and Chief Executive Officer