"Garden for Healthy Foods with Community gardens" Explores Sustainable Gardening Practices
Plots are available at the New Start Community Garden and the Burien Community Garden from April 1st to March 31st of the following year.

Participants learn about healthy garden environments that are beneficial to humans and wildlife, and experience hands-on activities and techniques for sustainable gardening. Our Sustainable Gardening workshops include topics incorporating edible natives in your veggie and flower garden, using organic fertilizers, composting and worm bins. Participants have the opportunity to volunteer at local community gardens. They learn skills and principles that are relevant and can be used throughout their lives as environmental stewards and sustainable gardeners.
The Weed Warriors non-profit is honored to serve as the fiscal sponsor for the New Start Community Garden program.
New Start Community Garden
Address: 614 SW 120th St.  Burien, WA 98146
We sponsor the garden and volunteers assist with the overall maintenance of the garden and enjoy the bounty of the harvest. Contact us if you are interested in volunteering or having a garden spot of your own.
Here's the New Start Community Garden Application
In 2018, all of the 60 plots were assigned to gardeners.  The planting season runs from April to March, enabling people to garden with winter crops.
Print the application and send it in or take it to the school with your $25.00 rental fee, or pick up an application at New Start High School.  Address is also on the form.  Call 206-948-3710 for more information.
New Start Community Garden plot renters are required to 10 hours of community service to help maintain the garden grounds.
Burien Community Garden
Spot #14  First plot in the middle row by the Picnic Table.
Address:  437  SW 144th St.  Burien, WA 98166.
The first meeting of interested volunteers will be the first Saturday in April at 10:00 AM.  Meet up for the "Garden for Life" Program in Burien. Orientation to the Community Garden. This is the orientation which includes the "Get to Know Each Other" social and the garden.  Look for Grace if interested in helping with our garden spot.
Plot renters are required to give 8 hours to the overall stewardship of the Garden in exchange for our space. The Nature Stewards gardeners will meet every other Saturday at 10 AM at the Garden plot.  Responsibilities for planting, watering and weeding will be assigned.
The Orchard Consists of a Variety of Plum, Apple, Peach, Cherry, Fig Trees
Fruit Trees Donated by the Nature Stewards Program and Furney's Nursery a few years ago are now producing delicious fruit!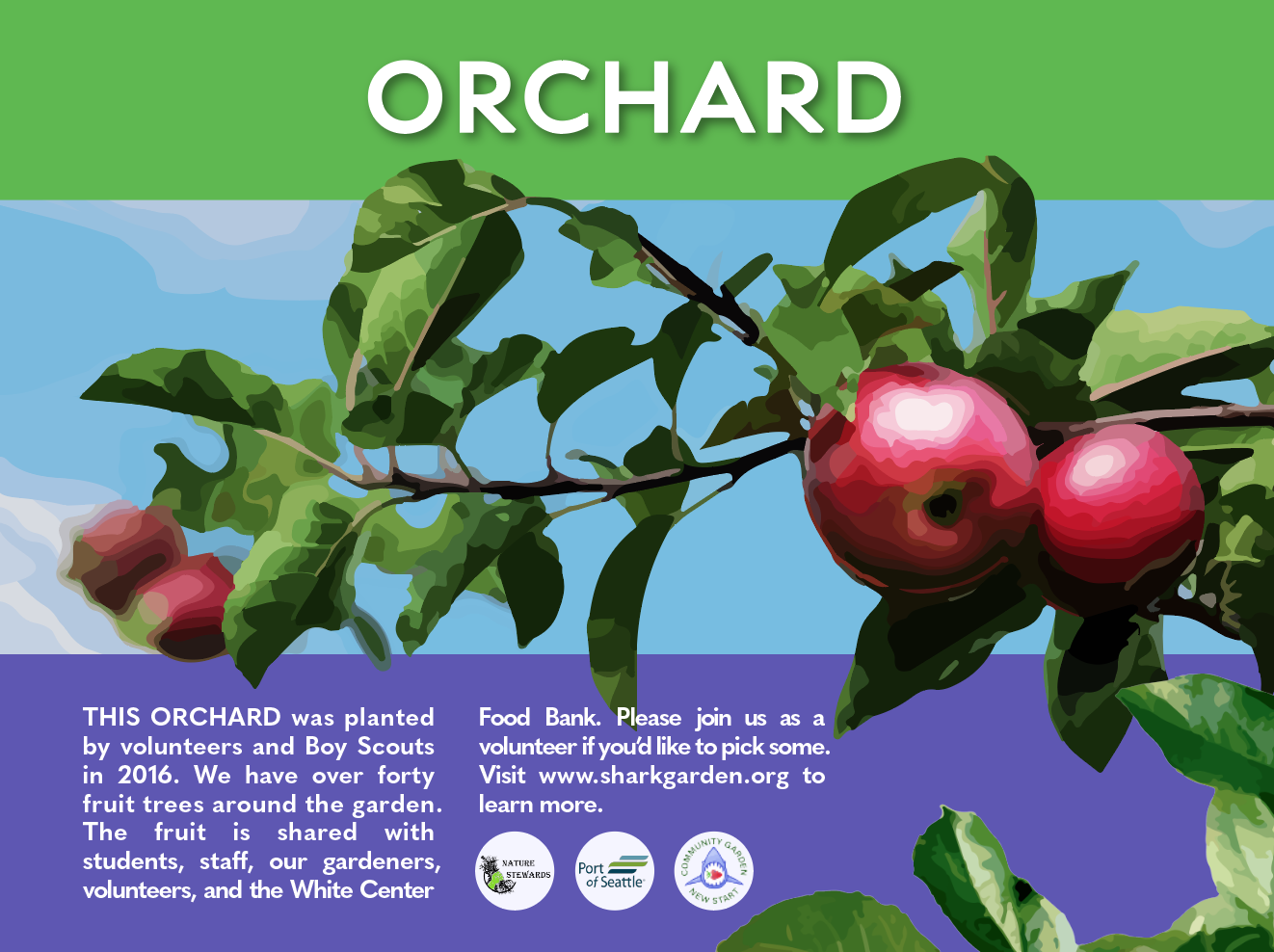 SeaTac Blog News Release of the New Start Community Garden by Omie Drawhorn with the Port Of Seattle ACE grant fund.
There are lots of reasons to garden—keep the kids busy, save money on groceries, know where your food comes from, and be a part of a community!
Secure your 100 square foot plot for only $25 (financial assistance available). Garden rental includes water access and use of limited tools from the community tool shed.
In 2018 the Garden donated approximately 2,000 pounds of  produce!
Thanks so much to  the generous gardeners that make this possible.