"Climate Outloud" was a Series of Discussions about Climate Change and this Court Case.  The talks took place in King County public libraries.

We've talked about climate change and what youths are doing to secure their future on a livable planet.
They say the federal government has not established reasonable carbon reduction targets.  For these talks in Burien and Renton, WA, Attorney Eric Dickman explained legal points and the process of the case moving forward in the courts.
Update from Our Children's Trust
Ten Years of Our Children's Trust, July 2020.
Today marks the ten year anniversary of the founding of Our Children's Trust.
This work you help lift up began with a vision for engaging young people and lawyers around the world in groundbreaking youth-led climate litigation. In 2010, our average global atmospheric carbon dioxide level was already at 389 parts per million…and swiftly rising above the 350 ppm threshold that would keep our planet's climate system from spiraling out of balance. There was urgency to take bold action on behalf of our children. So with the guidance of revolutionary legal scholars like Mary Wood and leading climate scientists like Dr. James Hansen, I, alongside a few other lawyers, leapt into action to form our small but mighty legal nonprofit, Our Children's Trust. A decade later, there is still no other public interest law firm of this kind on the planet. Representing only youth, from many different communities and cultures. Suing only governments to protect fundamental human rights and equal protection of the law. Seeking only science-based systemic remedies. We live by these principles and we are working together to do one thing: save our collective children's only home planet from government-sanctioned climate destruction.With your invaluable support, together we have accomplished so much over the course of the last decade. We have represented hundreds of young people and youth organizations in landmark climate litigation, and thousands more in other legal actions. We have led legal actions in all 50 U.S. states, as well as the federal lawsuit Juliana v. United States, which continues to make its way through our nation's court system. We also have active legal actions moving forward in seven states – Alaska, Washington, Oregon, Montana, Colorado, North Carolina, and Florida – with more states in development. Every case has built upon the last, trailblazing the way to critical legal victories of undisputed evidence and new legal precedent in our courts. Then there is our global work where we've driven, supported, or inspired youth climate cases in 18 other countries, from Canada to Colombia.
And yet, there is still so much to do. The urgency has not abated, in fact it has accelerated: as of June 2020, our global average CO2 levels are at 413 ppm. But we are not deterred and we are not discouraged. We know that we are on the right side of justice and we know from our experts that even though we won't undo all of the harm our governments are causing, we still have time to minimize the harm, and protect a habitable planet for our young, and for Posterity. Our science is sound, our law is constitutional and rooted in centuries of judicial precedent, and the young people we represent are fierce, brave, and committed to fighting for a stable climate for themselves, their families, their communities, and for future generations. They deserve good lawyers and that's what we are here to do.
So how should we celebrate how far we've come and where we're going next? As much as we would love to gather with you all in-person, given the global pandemic, we hope to meet you online instead, over the course of the next year, as we host online events where you can learn more and ask questions about and of our youth-led climate litigation, the young people leading the way, our legal and constitutional foundations, and the science that guides us. We'll also share updates on exciting Juliana v. United States storytelling projects coming out in our anniversary year; more details on these projects coming soon. Until then, please join us for a first anniversary online event in early August to hear about the genesis of Our Children's Trust: how our groundbreaking litigation campaign came about, how our strategy – from 2010 to today – is coming to fruition, and a bit about where we will go next. Keep an eye out for your invitation to this conversation to arrive soon!
Many of you have enabled us, with your generous support, to make these advances over the last ten years. Now, as our work deepens and broadens and our goals become more and more urgent, we again ask for your support. In recognition that many are experiencing difficult challenges in these unprecedented times, one of our donors has pledged to match all donations to Our Children's Trust, up to a total of $50,000, to encourage anyone who can to make a gift, in whatever amount you're able, to help us continue our work with the resources necessary to do so. Please click here if you are able to make a donation in honor of our 10 year anniversary today.
Until we see you online in August, thank you, sincerely and with immense gratitude, for your support, your inspiration, your enthusiasm, and your fire. We are determined to spend the next decade fighting for and protecting our children's rights to a stable climate with optimism and resolve. We are the law firm for our youth. And we could not represent them without your support.
Julia Olson
Executive Director & Chief Legal Counsel
Update: March 3, 2020
On Monday night, the 21 youth plaintiffs of Juliana v. United States filed a petition for rehearing en banc with the Ninth Circuit Court of Appeals. This petition asks the full Ninth Circuit Court of Appeals to convene a new panel of 11 circuit court judges to review January's sharply divided ruling.
In the petition, the youth plaintiffs argue the full Court of Appeals should review the January decision for several reasons including the gravity of the case, the role of the courts keeping a check on the Executive branch, and the important role a judicial declaration that the government violated the youth plaintiffs' constitutional rights would play in vindicating those rights. The petition also argues that the majority's decision would have undone other landmark Supreme Court decisions protecting children's constitutional rights like Brown v. Board of Education, which determined that racial segregation in public schools was unconstitutional.
Lastly, the youth plaintiffs argue that, contrary to January's majority opinion, they have legal standing, meaning they have the right to be heard by the federal courts. Judge Staton agreed in her dissent:
"My colleagues throw up their hands, concluding that this case presents nothing fit for the Judiciary. On a fundamental point, we agree: No case can single handedly prevent the catastrophic effects of climate change predicted by the government and scientists. But a federal court need not manage all of the delicate foreign relations and regulatory minutiae implicated by climate change to offer real relief, and the mere fact that this suit cannot alone halt climate change does not mean that it presents no claim suitable for judicial resolution."
With Judge Staton's powerful dissent, the strength of our evidence, and affirmation of the proper role of the courts to hold the government accountable, we are optimistic that the 11 judge panel will grant the en banc petition, reversing January's majority decision and finally setting the case for trial.
Stand with the 21 young plaintiffs as we fight together to make the voices of youth heard by making a donation to Our Children's Trust today. The Juliana case is far from over and we need your continued support as we prepare for this 11 judge review.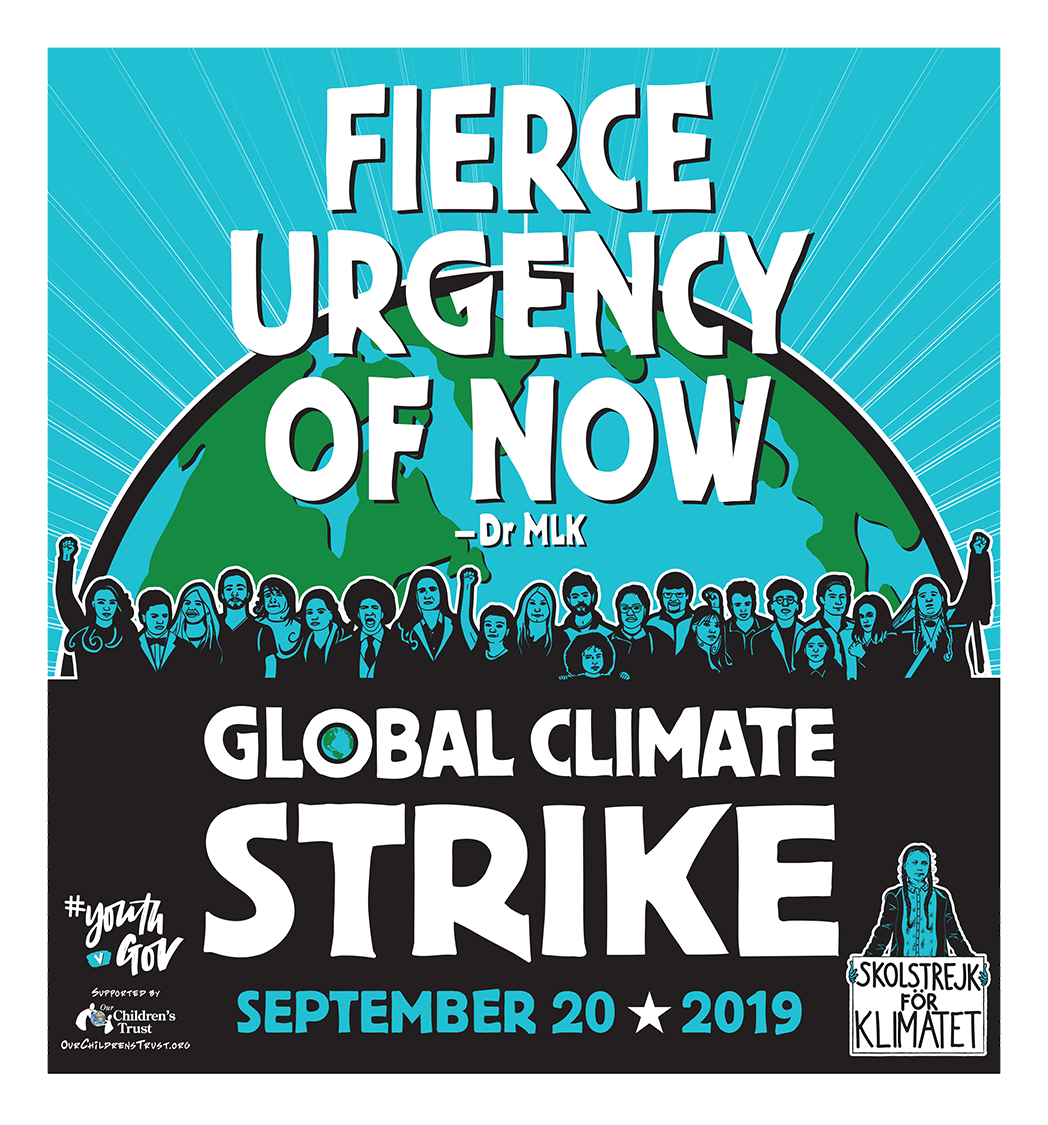 Climate Change. Global Warming. Let's Talk about It.
Youth Sue Government for A livable Future.
They want updated regulations using current science to secure Clean Air and Clean Water.
It's the most talked about case of the century!
Watch a Video by Our Children's Trust – Features the Plaintiffs and  their cause.  #YouthvGov
Today's Youths Take Action to Secure a Livable Future.
Juliana v. United States was brought by 21 young plaintiffs, and Earth Guardians, who argue that their constitutional and public trust rights are being violated by the government's creation of climate danger. The case is one of many related legal actions brought by youth in several states and countries, all supported by Our Children's Trust, seeking science-based action by governments to stabilize the climate system.
https://www.facebook.com/youthvgov/videos/1827467720629191/
While President Trump continues to reject science, these young people are fighting for the future of the planet.  Tool Kit for sharing info about the Youth v. U.S. Gov Case.
Here's a Chronological update by Our Children's Trust on what has happened with the case, Youth v. Gov.
The latest up date – Oral Argument in Juliana v. U.S., before the U.S. Court of Appeals in Portland, Oregon.  Our Children's Trust prepares for argument on June 4, 2019 and to bring the 21 youth plaintiffs to the courthouse on that day! At the hearing on June 4, 2019, Julia Olson argued on our behalf and Assistant Attorney General Jeffrey Clark argued on behalf of the federal government before Judges Mary H. Murguia and Andrew D. Hurwitz of the Ninth Circuit Court of Appeals, and Josephine L. Staton of District Court for the Central District of California.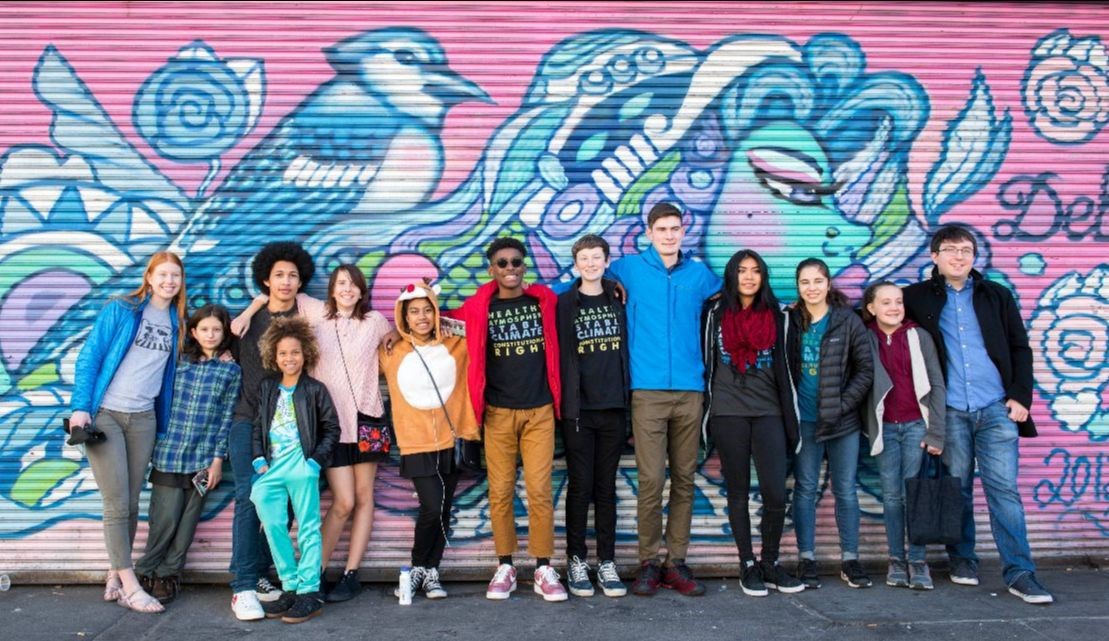 On October 29, 2018, 21 young people suing the federal government for violating their constitutional right to a safe climate will finally have their day in court.  The date was decided Thursday at a conference in Eugene, Ore., between attorneys for both sides and Magistrate Judge Thomas M. Coffin. The case will be heard by United States District Court Judge Ann Aiken.
This program is in partnership with King County Library System, in the "Everybody's Talking About It" series. "When everybody's talking about it, we can make a difference."  This program is Sponsored by Humanities WA, the King County Library Foundation, the Port of Seattle ACE grant fund, and the Nature Stewards Program.
We hosted Climate Outloud discussions in 2016 and 2017 in Burien and Renton. In 2018 we hosted a workshop about carbon sequestration and your carbon footprint, funded by a Port Of Seattle Airport Community Ecology grant as part of the "Making Burien Awesome" program.  Attendees learned how to determine the amount of carbon sequestered by various native tree species. See past Program Schedule.  Digital Toolkit for sharing the event.
To follow the Court Case, look at these articles and press releases.
Juliana v. United States was brought by 21 young plaintiffs who argue that their constitutional and public trust rights are being violated by the government's creation of climate danger.  The case is one of many related legal actions brought by youth in several states and countries, all supported by Our Children's Trust, seeking science-based action by governments to stabilize the climate system.
Comments by an 11 Year Old Plaintiff. Wow,  She's Good!
---
Youth Demand that Adults Stop Destroying the Planet
Sick of inaction on climate change, youth are organizing the Zero Hour Climate March to get dirty money out of politics and fight for climate justice.
---
Hear Michael Foster's heartfelt testimony for climate change direct action.
NOAA reports this data:   Carbon Dioxide:

September 2017  

406.94 ppm
November 2018: 408.02 ppm


Click on the Chart below for an update.
Climate Outloud follows the Activists in their Acts of Civil Disobedience to save the Planet from further warming and inhabitable conditions.