On-line Workshops in the Garden for Wildlife Program
Learn how sustainable gardening techniques benefit both people and wildlife.
Adding native plants and perennial flowering plants to a community garden, a public park, or your home garden contributes a greater impact to the overall health of wildlife around Puget Sound. Gardens for Wildlife program addresses the need for wildlife habitat through a combination of education and stewardship activities.  The knowledge gained trough the Zoom workshops and a restoration event in a community park or community garden enables participants to successfully garden for wildlife in their own yard, garden, or apartment balcony. The events and Zoom workshops are free and open to the public.
"Garden for Wildlife" Zoom workshops topics include:
1.  Identify and control invasive non-native weeds.  We hosted 10 events during the summer of 2020, including three Zoom workshops on Invasive Weeds, how to control them and restore a garden, yard, or area to a wildlife friendly habitat. We also hosted a Graduation Ceremony in the summer of 2020 for the members of this program.
2.  Composting, mulching  was delivered in January of 2021.  This program featured  a Zoom instructional workshop and hands-on practice in composting techniques at the New Start Community Garden in Burien, WA.
3.  A Wetlands workshop was delivered in February 2021 on various types, the importance of wetlands as habitat for wildlife. This class featured a Zoom presentation with Instructor Lauryn Duoto, WHIT Wetland Certification. Attendees were invited to participate in a wetland restoration project the same week.
4.  Sustainable Gardening Practices with Taryn Koerker is scheduled via Zoom for April 11th, 2021. To Attend, contact GraceStiller@comcast.net for Zoom Link and Worksheet.
5.  Edible Native Plants workshop on food for people and wildlife via Zoom is scheduled in July of 2021.
6.  Coloring book on noxious weeds and the alternative better choice, a native plant that provides habitat for our birds, butterflies and bees, without a negative impact on our environment.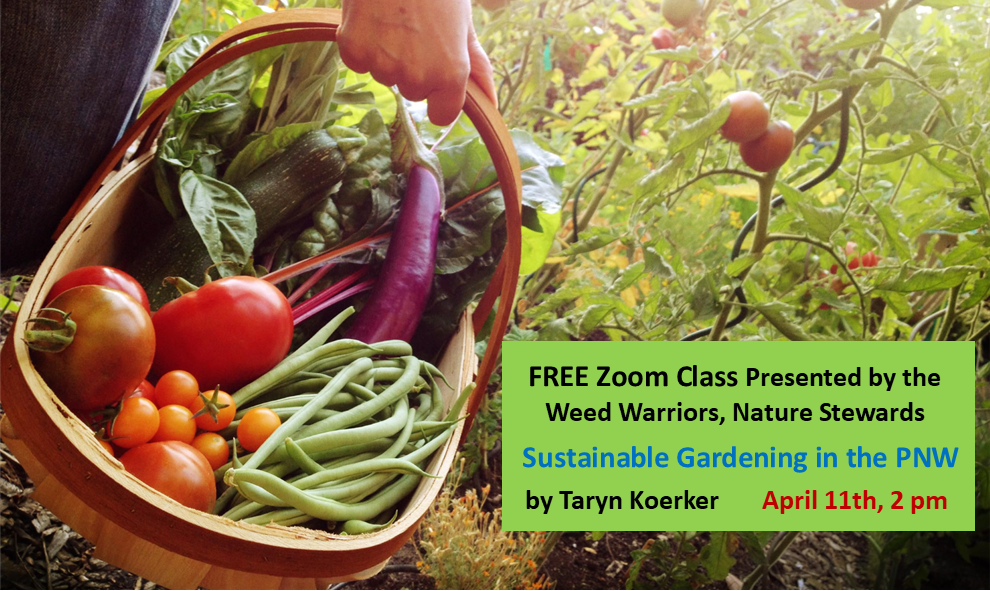 Thank You to our Funders and Partners