The Weed Warriors organization, founded in 2008, is a 501(c)(3) Public Charity and a Washington State Non-Profit Charity.
Nature Stewards is our educational program name. A working Board of Directors manages all aspects of the non-profit.
Board Members
Grace Stiller, President

Grace founded the Weed Warriors in 2008 with Vice President Rick Bell and a few others to meet the student's community services requirements for high school graduation.  With the City embracing the program, the Weed Warriors tackled noxious weeds in public parks and trails, first in Newcastle and then expanding to other cities.  Now the Weed Warriors organization has many environmental advocacy and education programs that serve all age groups.  Grace has a BA in Education and loves working with kids and adults.   She has spent almost seven years in Haiti where her eyes were opened to the impacts of poor environmental practices.  She has served on boards of the Grays Harbor and King County Noxious Weed Programs, and on boards of environmental and other non-profits including the Washington Native Plant Society Central Puget Sound Chapter, New Start Community Garden in Burien, Newcastle Trails, Newcastle Historical Society, New Start Community Garden, West Seattle Timebank, and the Burien Arts Association.  She is on the Advisory Council for a City of Seattle sanctioned homeless encampment manged by the Low Income Housing Institute, Camp Second Chance, and is Habitat Steward team leader for the City of Burien with the National Wildlife Federation. Grace grew up in forestry and logging country in the Pacific Northwest, loving the outdoors and wildlife.  This passion has continued throughout her life.  Her favorite relaxation-time is walking the beach with the wind in her hair and the sand in her toes.  425-228-7927 – GraceStiller
Coleen Militich, Secretary

Coleen is the Weed Warriors, Nature Stewards Program Secretary and representative to her community with our partner organization, the National Wildlife Federation.  Over the years she has hosted the Nature Stewards Program outreach booth at many Earth Day and Community events.  She has a background in Human Relations and Office Administration.  She was instrumental in certifying the Hazelwood Park in the May Creek sub-basin of the Lake Washington Watershed of Puget Sound as a Wildlife Habitat Park, a national honor.  Thanks, Coleen!
Tammy Coburn, Treasurer

Tammy Coburn, Treasurer for Weed Warriors dba Nature Stewards Programs, served over a decade as a CPA for a regional firm working with clients all over the northwest.  With degrees in accounting, finance and a touch of economics it became clear that she was needed by local non-profits. She's been volunteering as treasurer for various non-profits for the past 20+ years.  Payment in smiles, friendships and seeing the benefits environmental and sustainability programs provide to the community has been her salary of choice.  When Tammy's not behind the computer counting beans you'll find her outside planting them.  Digging around, growing organic gardens, planting native plants and working in her tiny greenhouse is where you'll probably find her.  The bounty of starts the greenhouse produces make their way to friends, non-profits and yes, some go to her chickens too.
Monica Rosman LaFever, Vice President

Monica is computer technologist with Boeing where she researches and develops advanced computing technologies by conducting original research in interactive graphics and visualization areas.  Monica grew up in eastern Washington's Columbia plateau on a wheat farm, where the terrain is dry and warm.  Out of college, she established herself in the western part of the state, where the terrain is more forested and urban, having a wetter marine climate.  She has a deep appreciation for both these regions.  She spends time with her family and enjoys boating in the Puget Sound and San Juan Islands, and fishing off the coast of Washington.  Monica is glad she has found an organization like Nature Stewards, that emphasizes high quality education, awareness,  and advocacy  for outdoor activities and protecting our environment.  Monica uses her skills with the Weed Warriors Nature Stewards Program to craft advocacy statements and policy around important Puget Sound environmental issues.
Rick Bell, Non-Voting Board Member, Vice President Emeritus
In the Superman Suit!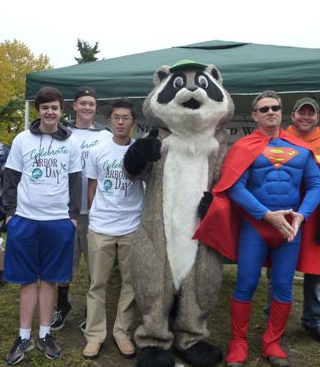 Aerospace Research Engineer at Boeing
Rick Bell is one of the founding board members of the Weed Warriors non-profit organization.  Rick served as Vice President from 2008 until 2016 when he moved out of the area. Rick participated in many of the Newcastle Weed Warrior projects over 8 years while serving on the Board of Directors. He is truly a remarkable, hard-working and motivated person.  Rick always has a "can-do" positive attitude – no project is too big to tackle. Rick makes any can any project, which is traditionally considered "work," seem fun and interesting. That's why we call Rick our Board Superman.   Rick's passion for the environment began as a child and has carried through his adult life. Rick was worried about the perception of the Weed Warriors when marijuana became legal in WA State, and encouraged the Board of Directors to adopt Nature Stewards as a DBA, Doing Business As, trade name which better reflects what we do and our overall mission. Good Advice!  Rick is now an ex-officio of the board, and always welcome at any of our meetings when in the area.
Brian Smith, Non-Voting Board Member, City of Newcastle Liaison and Site Advisor

Brian Smith heads the Maintenance Department of the City of Newcastle where he manages staff and directs the site logistics of Weed Warrior projects, providing jurisdictional support, tools, disposal of noxious weeds, and advice on project locations.  Brian and his staff have supported the efforts of the Weed Warriors and have facilitated the Weed Warrior "Boots on the Ground" projects and the set-up and site coordination for the Newcastle Earth Day events since organization's inception in 2008.
Lisa Auman, Non-Voting Member, City of Burien Liaison and Site Advisor

Lisa is Department Assistant offering administrative support for Burien's Parks, Recreation and Cultural Services department. She coordinates the Adopt-a-Park volunteer program providing services to enhance Burien city parks. It has been a pleasure to work with Lisa and the projects she coordinates in Mathison Park and the Burien Community Garden.  The Weed Warriors have adopted and hosted several volunteer work projects with teens, Scout troops, adults, and even a pre-school group at Mathison Park through her Adopt-a-Park program.
Mary VonRanker, Earth Day Activities Committee Lead

Mary Von Ranker is a human resources professional is a person who connects and bridges – connects to the employees, connects to management and bridges those experiences into a win/win solution. Mary is an HR Specialist, Entrepreneur and Wellness Advocate at Heart.  She has been on the Newcastle Chamber of Commerce Board for two years as Secretary on the Newcastle Chamber of Commerce Executive Board. Marry serves at lead for our Earth Day activities.