Donate Securely via PayPal.
With your generosity, we'll "Connect Kids to Nature"
and continue to provide the quality environmental programs communities need and deserve. Thank You!
Address for checks:   Weed Warriors, Nature Stewards Program
PO Box 3455,  Renton, WA 98056
Weed Warriors is a 501c3 Public Charity. Donations are tax deductible to the extent provided by law.
Our EIN number is 80-0342794.
---
We participate in the King County Employees Giving Program.


If you are a King County employee, please talk to your supervisor or payroll department to support the Weed Warriors with your donation.  Give them our number, 9841, and they will set up a donation to us from you via the payroll department.
Our volunteers work in parks, community gardens, trails and public spaces with "boots on the ground" to remove weeds and restore habitats.
All you need is our four digit code for Weed Warriors, Nature Stewards  9841.  It's that easy!

---
Thank you to Sound Credit Union!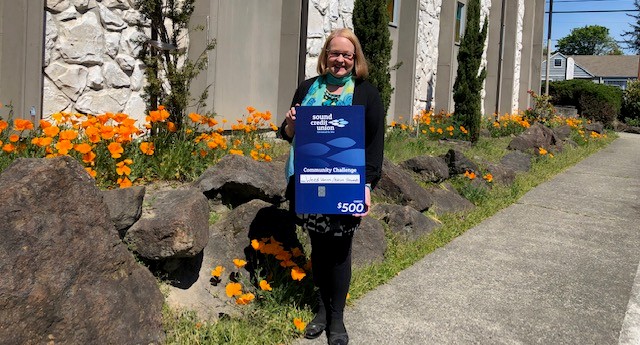 We received a $500.00 Community Challenge donation in 2019 from Sound Credit Union in Burien,  just in time for GiveBIG.
We appreciate you!
Please consider donating during the Give BIG Campaign.  Thank you for your support!
We'd like to acknowledge our donors during past GiveBIG campaigns: Ann Petrich Sloper, Sego Jackson, Harriet Huber, Monica Rosman LaFever, and several anonymous donors.  Thank you for your support and belief in our important mission. We're grateful to have partners like you!
---
We are part of the WA State Combined Fund Drive for WA State Employees.
If you are a WA State employee, support our programs via the Combined Fund Drive.
Give this number to your supervisor or payroll dept.  #1482282.
Your donations support our programs and are appreciated!

NATURE STEWARDS    Charity Code: 1482282
We are Advocates for a Healthy Environment. It's Important. It's Possible. It's Essential.
We Inspire Environmental Stewardship and Connect Kids to Nature through educational programs and the arts, empowering them to find their voices to steward the earth and change the world. We're advocates for healthy habitats for both people and wildlife.
Our vision is to see the world living in harmony with nature. Nature Stewards is the program name for the Weed Warriors Charity.
---
Help us Connect Kids to Nature when you Shop Amazon with AmazonSmile
#StartWithaSmile at smile.amazon.com/ch/80-0342794 and Amazon donates to Weed Warriors.
---


You can help just by shopping at Fred Meyer.  Link your rewards card to our Non-Profit account 86033 and Fred Meyer donates to the Weed Warriors Nature Stewards Program!
---
Our mission:  

Inspiring People to Experience Nature and Become Environmental Stewards.
Our Vision:  People Living in Harmony with Nature
Weed Warriors are stewards of public places – parks, trails, and open spaces. We are passionate about living in harmony with nature.
 We provide education that empowers people to become environmental stewards. Our public projects relieve the burden of government and improve the aesthetic, recreational and economic value of public parks, trails, and open spaces. We empower youth through education and creativity to find their voices, steward the earth, and change the world.
The Nature Stewards is an educational program of the Weed Warriors, a WA State Non-Profit Public Charity founded in 2008, with 501(c)(3) designation under the Internal Revenue Code.
Donations are tax-deductible as allowed by law.
Weed Warriors, Nature Stewards Program is registered with the Washington State's Charities Program, www.sos.wa.gov/charities .
Our Nature Stewards program empowers communities to connect to the natural landscape, fosters an appreciation and stewardship of the environment and advocates for social responsibility of public areas. Volunteers of all ages help shape the environmental health of their public places by participating in local restoration projects – removing invasive weeds and planting native plants. We empower youth to find their voices to steward the earth and change the world through education, arts, and creative programming. We advocate for communities to connect with nature and provide habitat for birds, butterflies and pollinators.