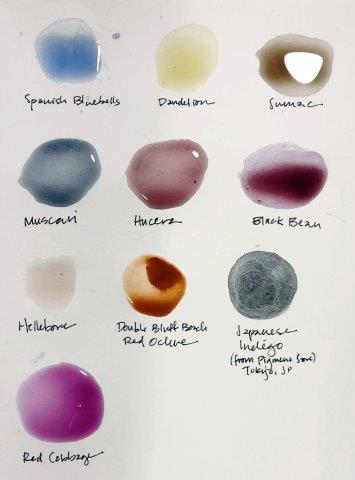 Natural Inks of Various Colors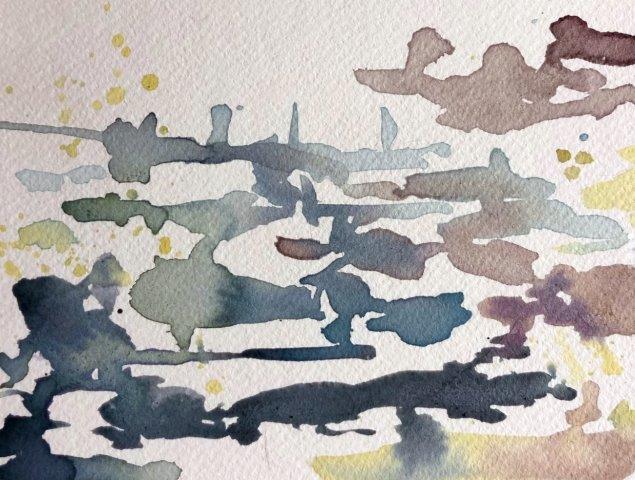 Ink Drawing Sample with Various Inks You Will Learn to Make
Below is the schedule for the 2023 Art in Nature classes, held at the New Start Community Garden. The classes are taught by Art Luz Bratcher of the Golden Repair in Burien, WA. Thanks to the Nature Stewards plant sale fundraising efforts and our generous donors, we are able to offer these engaging classes on various topics free of charge!  Some supplies are provided.  Check below the supplies you will need to bring to be prepared for the class that starts promptly at 1:00PM.
The classes are held at the New Start Community Garden located on the New Start School Campus.
614 SW 120th St. Burien, WA.
Sundays through October, 1:00 – 3:00 PM.
To attend the classes, follow the Nature Stewards Program on Eventbrite and sign up for the classes.
| | | | | | |
| --- | --- | --- | --- | --- | --- |
| Date | Name of Class | Class Description | Supplies Needed (provided by participants) | Supplies Provided by Instructor, Luz Bratcher | Misc. |
| Sept | | | | | |
| 09/17/23 | Ink Making | Make ink from berries, leaves, and petals found in the garden. Participants will be able to write, draw, and paint with their homemade ink. | Collect materials. Bring a 12oz (for extraction) and 4oz (for storing) glass jars. Exact sizes not required, just a large and small jar. Bring watercolor paper or copy paper. | Paint brushes, salt, white vinegar, spoons, coffee filters, powdered gum arabic | No experience needed. Wear clothes that can be stained. |
| 09/24/23 | Shadow Drawing | Learn to discover plants in a whole new light—literally! Capture the shadows of the garden to create imaginative abstract drawings. | Coloring tool of choice (markers, pencils, crayons, pastels, etc), sketchbook (optional). | Flashlight, butcher paper, paint markers | |
| Oct | | | | | |
| 10/01/23 | Plant Print Making | Learn how to make plant prints with a miniature press. | Bring aluminum pie tins or clean used Tetrapak containers (like what soup, broth, or plant milks come in), scissors. | Paper, ink, press, brayer, ball point pens. | No experience needed. Wear clothes that can be stained. |
| 10/08/23 | Book Making | Learn to make your own book to hold nature samples and note cards. | Bring a few 3x5 inch note cards or old greeting cards. | Craft paper and newsprint. Paper cutter. | Simple, easy, folding technique. No experience needed. |
| 10/15/23 | Garden Embroidery | Learn to embroider your favorite plants on fabric. | Embroidery hoop (any size), non-stretch fabric (preferably cotton) or cotton clothing you'd like to embellish, pencil or Frixion pen/marker. | Embroidery thread & needles, Frixion pens and markers. | Daiso, Michael's, JoAnn's for an embroidery hoop. No experience needed. |
| 10/22/23 | Mono printing with Leaves | Create a monoprint using leaves or flowers found in the garden | Paper (copy, newsprint, cardstock, or construction) | Printing plate, paper, acrylic paint, brayers, paint brushes. | No experience needed. Wear clothes that can be stained. |
| 10/29/23 | Pumpkin Carving | Carving plant designs on pumpkins for Halloween | Pumpkin and carving tools. | Sharpie and plant design templates. | Great gift idea! Adults supervision required. |